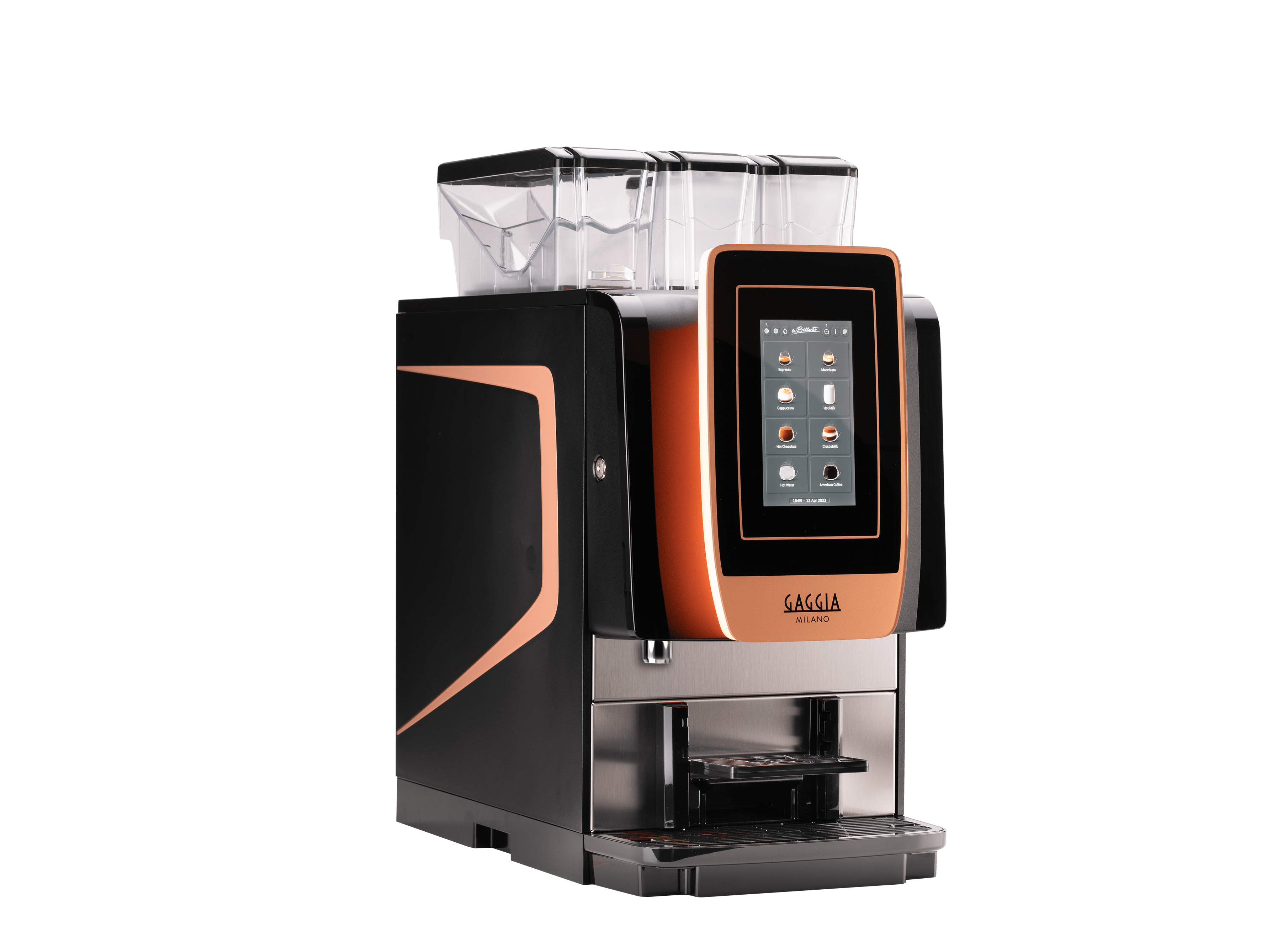 Gaggia Milano has created a new, fully-automatic coffee machine, La Brillante. It is an aesthetically appealing model with an innovative and polished design, which embraces the latest technology to offer top performance in a compact footprint.
Gaggia Milano's pursuit of innovation through advanced technological solutions means that with La Brillante, coffee shops, small hotels, bakeries and consumers can enjoy the benefits of a highly efficient, reliable solution, which is perfectly in step with the times.
THE MOST COMPLETE AND MINIMALIST DESIGN
In La Brillante, we have created a 'statement' machine, with a contemporary and minimalist look and feel that makes Gaggia Milano stand out from the competition. For example, the 7-inch touchscreen, the customisable RGB LED frames and the overall use of premium materials give this fully-automatic
machine a distinctive identity.
As demonstrated by the transparent hoppers, which allow customers to appreciate the freshness of the ingredients, the innovative design of La Brillante puts the spotlight firmly on in-cup quality.
It goes without saying that greatest attention has been paid to hygiene, in particular the machine's cleaning and maintenance operations. For instance, the waste bucket can be removed for cleaning whilst the drip tray remains in place, and vice versa.
AN INTUITIVE USER INTERFACE
We've applied the same meticulous attention to detail to ensure that La Brillante is intuitive and easy to use both by staff and, in self-service mode, by consumers. That's why La Brillante comes equipped with the same logic and menu architecture of La Radiosa and La Solare, which brings great
benefits for training and for everyday maintenance by both technicians and unskilled staff. In fact, problem solving is another great asset that comes with the machine. La Brillante can guide users through some useful troubleshooting tips, via the 7-inch touchscreen.
ABOUT PRIMEMILK
La Brillante delivers top-quality, hot foamed milk-based beverages, thanks to its a state-of-the-art milk frothing technology: PrimeMilk. Thanks to this system, it is possible to minutely adjust the amount of foam electronically via the 7-inch touchscreen, that is define the amount of foam specified in individual recipes.
Thanks to PrimeMilk, La Brillante also offers operators a series of benefits, especially in terms of cleaning and maintenance. In fact, La Brillante is equipped with programmable fully-automated cleaning cycles, which can be set up directly from the touchscreen.