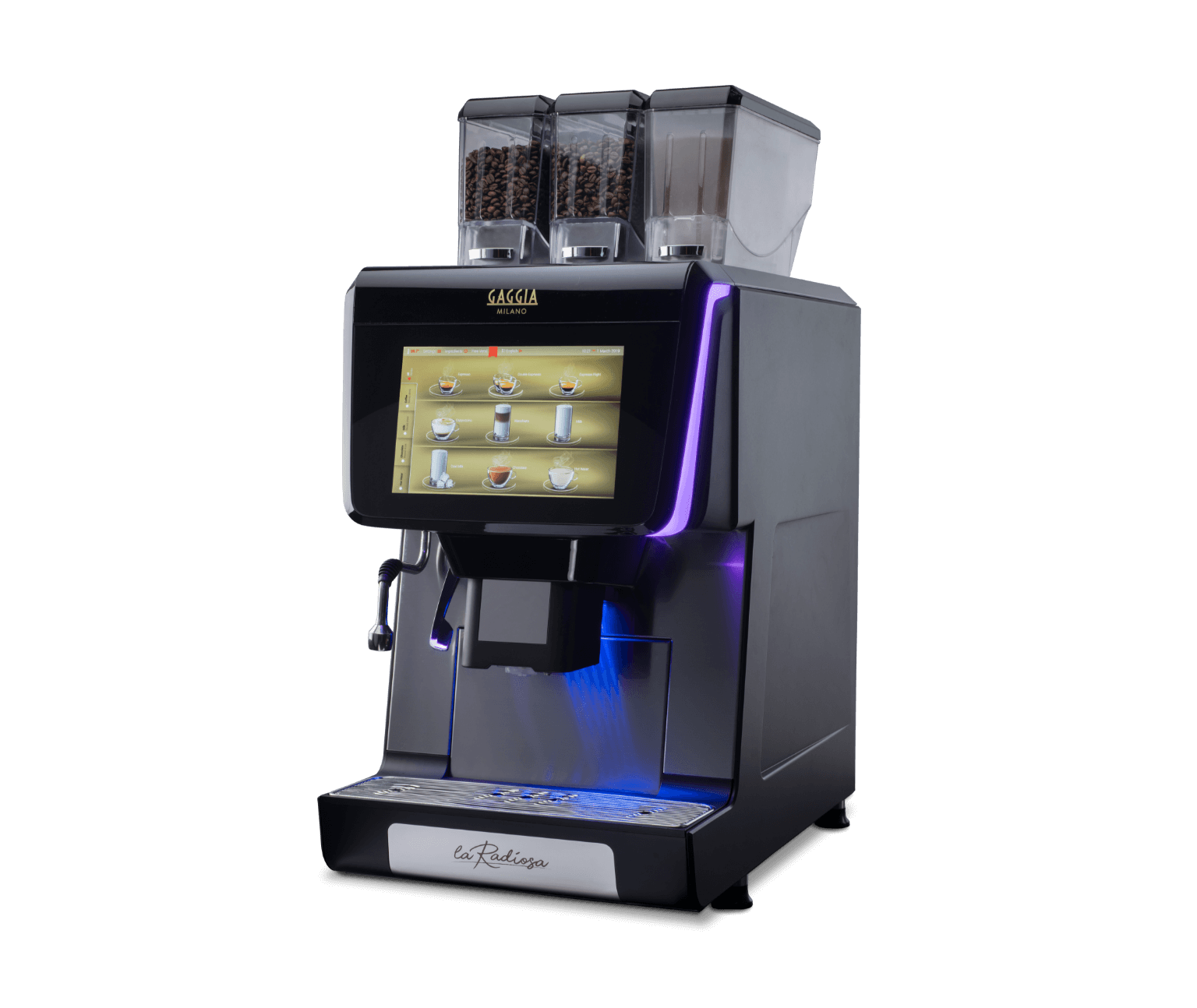 If the first machines built by Achille Gaggia were designed to make his dreams reality,  then he would have seen the brand's new La Radiosa, with its stunning 10" HD capacitive display, as pure science fiction.
La Radiosa is a colour chameleon and what's more, thanks to its ground-breaking EvoMilk fresh milk system, it delivers coffee perfection for consumers wherever they are in the world, whatever expectations they have. 
Exclusive design
The first thing you'll notice about this great new machine from Gaggia Milano is its eye-catching design, centred on its door, which is surrounded by RGB leds, allowing purchasers to change its appearance.
In addition to its compact dimensions, La Radiosa offers great flexibility. You can specify one or two bean hoppers, with one or two soluble powder containers. 
Evomilk technology
La Radiosa benefits from brand-new Gaggia Milano EvoMilk technology, which allows users to set-up various doses, temperatures and densities of fresh milk, but also to drink hot and cold perfectly foamed milk.
At the end of the day, there's no need to worry about cleaning the machine, thanks to a Plug-and-play automatic cleaning cycle.
Enhanced electronics
La Radiosa boasts enhanced electronics, accessed via a 10" touchscreen user interface. From here, you can create your own custom drinks icons, adjust the colour of the leds and much more.
The connectivity 'box' is also ticked, thanks to embedded WI-FI / Bluetooth and the pre-set 3G cellular connection.
Exclusive coffee profiles
La Radiosa has a 24V high throughout pump with adjustable flow, enabling you to create a unique coffee profile.
Similarly, the density of soluble drinks can be adjusted, according to your taste.
Hygienic features
In compliance with EN 16889 hygiene-food standards and NSF strict protocols, La Radiosa was designed with the aim of creating an elegant and at the same time functional product:
Automated beverage packaging cycle by means of the Bean-To-Cup solution, which obviates from any human interaction and ensures maximum hygiene.
Automatic rinsing cycles with hot water (90°C) of both the milk and the coffee circuits after each dispensing.
In addition to offering perfectly frothed hot and cold milk drinks, at the end of the daily service the EvoMilk system guarantees an innovative washing and sanitizing cycle which, after a quick launch, is completed in full autonomy using specific NSF-approved detergents.
Easy cleaning of all external surfaces, the capacitive touchscreen and other finishes.