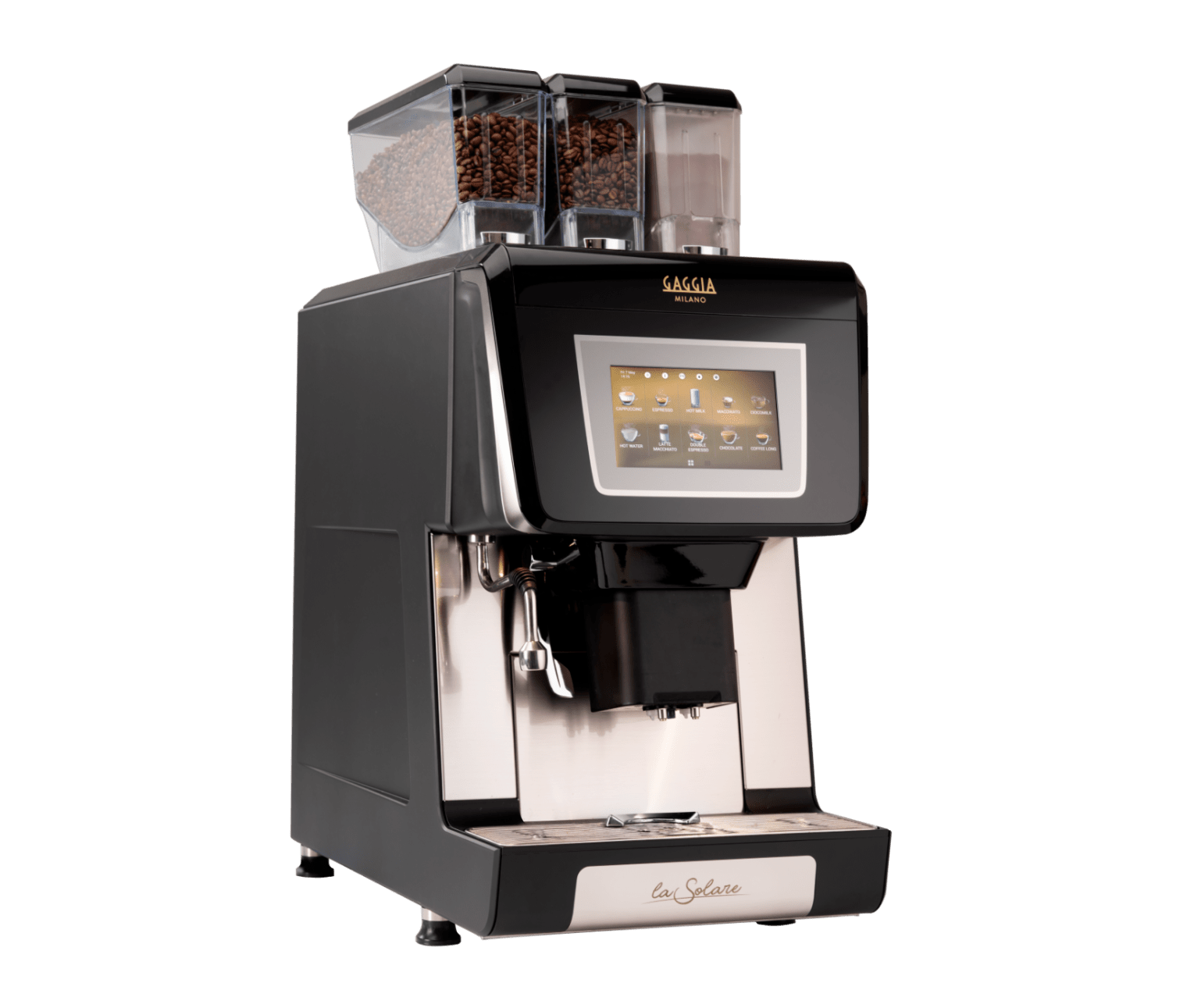 La Solare is the new, fully automatic coffee machine by Gaggia Milano. It is the culmination of a series of cutting-edge technological advances, designed to enhance one of the most important rituals of the day: the coffee break.

With La Solare, you can offer customers beverages that combine the flavour of freshly ground coffee beans with the creaminess of fresh milk.
It's the perfect machine for all kinds of locations, from cafés to pastry shops; in retail or in hospitality.

In short, as we say in Italy, "La Solare ha tutto!" It's got the lot...
A USER-FRIENDLY EXPERIENCE
The elegance of an iconic brand like Gaggia Milano is self-evident in the refined lines that characterize the design ofLa Solare. Its aluminium profiles with their inherent sparkle, the LED-illuminated dispensing area and the gleaming stainless-steel components are just some of the features of La Solare that demonstrate the attention to detail that has been lavished on this machine ever since the design stage.
We've used the same meticulous attention to detail to ensure that La Solare is intuitive and easy to. In fact, in self-service mode, which is accessible via the 7-inch touchscreen, customers can easily select and customize their own drinks.
AN ENHANCED MILK SYSTEM
La Solare has been designed to deliver high-quality, hot foamed milk-based beverages, time after time, year after year. What's more, its innovative on-board technology offers a couple of great advantages, for consumers and unskilled personnel alike
First of all, thanks to the software, also accessible via the 7-inch touchscreen, it is possible to adjust and customize the amount of foam specified in individual recipes.
Secondly, La Solare is equipped with programmable fully-automated cleaning cycles, which can be set up directly from the touchscreen. Also, as far as the the daily procedure required at the end of the service is concerned, there's no need to disassemble any of its frother parts, nor to do any manual cleaning. To sum up, optimum standards of hygiene and cleanliness are always guaranteed.
THE NEW Z4000 iX COFFEE GROUP
Z4000 iX is the innovative technology that further enhances the high-performing coffee technology that's part and parcel of Gaggia Milano's entire range of fully automatic machines.
Z4000 iX is a new brewing group, which boasts a heated stainless-steel chamber that ensures better stability, in terms of both temperature and quality perception.
This means that the impressive drink quality offered by La Solare remains consistent, from the first coffee of the day to the last. Available in a double version, up to14 or 21 grams to meet the needs of international markets, the innovative Z4000 iX coffee group also allows you to offer a wider selection of drinks on your menu.
YOUR BREAK IN FULL SAFETY
To ensure the safety of both operators and consumers, 'hygiene' is a top-priority with La Solare. Every aspect of the machine, its technologies and its design, have been scrutinised to ensure compliance with all current safety regulations.
Thanks to the presence of silver ions, the Pure Zone® adhesive film shields the touchscreen of La Solare, blocking microbial proliferation 24/7 - for up to 5 years. Pure Zone® is waterproof, compatible with all cleaning protocols and resistant to all leading cleaning and sanitizing products.
Coffee APPeal is the free mobile app which lets customers enjoy a touchless purchasing experience. Just scan the QR Code on the La Solare touchscreen and select your drink. You don't have to enter any personal information; you don't have to touch the machine.