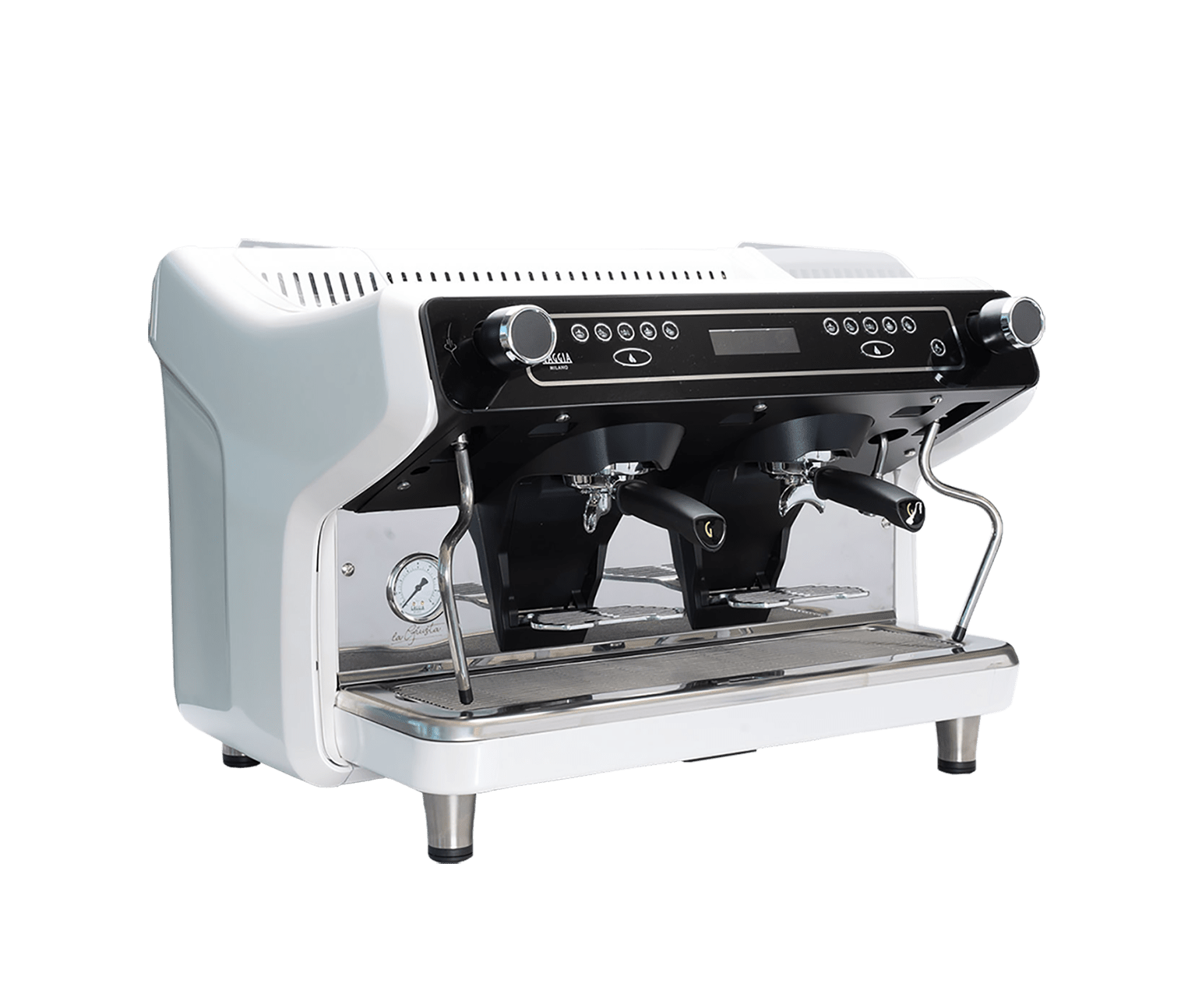 La Giusta is here: the new iconic professional coffee machine by Gaggia Milano is a precious treasure designed to combine maximum reliability with a refined aesthetics. The meticulous choice of metallic materials, constructed with assiduous attention to detail, has an immediate impact: La Giusta is the perfect symbiosis of style, modern design and practical functionality.
Unrivalled efficiency
La Giusta is available in several versions to satisfy the needs of the most discerning baristas, who can choose between 2 or 3 groups, as well as espresso cups or tall cups.
The best possible ergonomics is the secret of its design, which includes an inclined user interface for improved visibility of the various selections on offer, angled filter holders for maximum practicality and a steam knob that delivers maximum steam with just a 0-90° rotation.
Its strengths also include a LED-equipped working area with two steam wands, both of which are fitted with the state-of-the-art cool touch technology, designed to keep them cooler to the touch.
Polished design
La Giusta is an intelligent mix of stylishness and freshness, which unmistakably recalls the aesthetics of the iconic brand. Its design is all about maximum attention to detail, starting with the careful selection of materials, which reflects the guarantee of reliability that Gaggia Milano has always delivered to coffee professionals.
The distinctive features of La Giusta include an elegant front keypad, integrated with a glass console. there's also a rear panel that recalls the iconic style of the brand through the subtle, backlit logo.
Ease of use
La Giusta is equipped with a colour touchscreen that allows baristas both to customise and to control all parameters, as well as setting up the energy-saving mode.
Each of its groups has a 5-button backlit keypad as well as a programmable "Purge" button designed to thoroughly clean the coffee group.
MAXIMUM FUNCTIONALITY
The new professional coffee machine La Giusta has been strongly inspired by our mission to create technological innovation without overlooking the barista's most fundamental requirements: that's why Gaggia Milano guarantees maximum practicality in terms of maintenance.
Moreover, a USB port makes the configuration of La Giusta – loading software updates and customizing the screensaver logo – quick and easy.